About us
We are a young Canadian family with two boys that want to help those struggling with an addiction to drugs or alcohol. We understand how addiction can have devastating effects on those afflicted as well as their family and friends.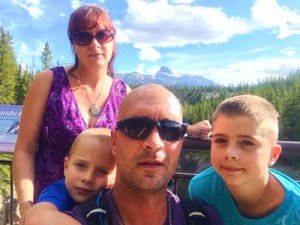 I, Roger and my lovely wife Shauna decided to take a leap of faith and try to give back and help others as I was helped in the past. I was prescribed, and eventually became dependant on the painkiller OxyContin. I could never get enough and it was killing me and taking it's toll on my family. Through the help of many people at a nearby treatment facility I learned how to love and live again without the use of any mind altering substances. Life today is great, I am still with my best friend and wife, we have 2 amazing boys and are now living a dream come true in the Caribbean.
We hope that if you are ready to take that first step that we can assist you on your road to recovery. We will be there to greet you at the airport and welcome you to our facility. While living onsite we will be spending plenty of time getting to know you. You will have many offsite activities available to you, which we will organize and facilitate for you.
Call or text 1-829-932-0123 to speak with us
Staff
We have a great experienced North American counsellor to provide you with the tools necessary to overcome your addiction. She has helped many that have suffered with alcoholism and addiction and also other underlying issues. She has also spent many years in the mental health field helping young and old deal with and overcome their individual personal issues with grief, anxiety, depression, addiction etc.
Jim MacLean  who has since moved on to other endeavours was 1 of my previous counsellors at my second rehab and our first lead counsellor at Always Hope. He helped us develop and write the program and also contributed to some blog posts.
All other support staff will be local Dominicans.
Call or text today to speak with us 1-829-932-0123
Or go to our contact page to find other means to contact us.